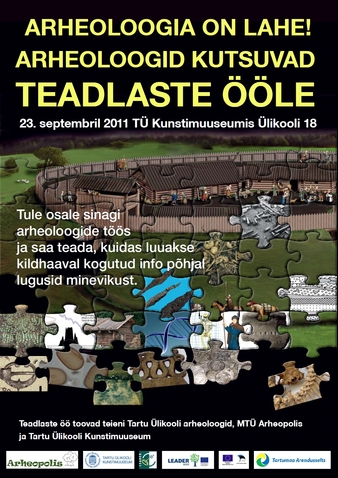 Interactive Archaeology Exhibition
"Discover the Viking Age Estonia" at the Night of Science 2011
On 23 September 2011 the Art Museum of the University of Tartu hosts an interesting game which enables all those interested in archaeology to get acquainted with the work of archaeologists and discover the secrets of the past. The game is prepared and guided by the scientists and students of the Institute of History and Archaeology of the University of Tartu.
In the course of the game the participants are explained how archaeologists create stories about the past on the basis of material culture. Usually pot sherds, pieces of different tools and clothing, carbon, etc are the only sources of information available to an archaeologist. So, information is literally collected piece by piece. However, in the end archaeologists put together a full picture which tells us a story about the life of our ancestors.
The game has been prepared in the frames of a youth awareness raising project coordinated by MTÜ Arheopolis and financed by LEADER support.